John Clem ran away from his Newark, Ohio home in 1860. He was 9 years old. When war broke the following year he attempted to join the Union Army but was rejected. Undeterred, the determined 10-year-old tagged along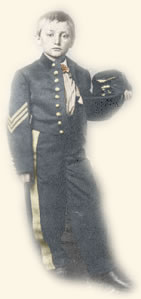 with the 22nd Michigan Volunteer Infantry until he was finally adopted as its mascot and drummer. He was supplied with a scaled-down uniform and a shortened rifle.
Clem distinguished himself at the Battle of Shiloh where an artillery shell destroyed his drum. Newspapers got hold of his story and he soon became known as the "Drummer Boy of Shiloh."
Clem gained further renown at the Battle of Chickamauga in September of 1863. In the thickest of the fighting, three bullets passed through his cap without doing him any harm. Separated from his unit, he escaped capture when he shot and killed a Confederate soldier who ordered him to halt. Newspapers now labeled him "The Drummer Boy of Chickamauga."
Little Clem's luck ran out a month later when he was captured by Confederate cavalry while he was serving as a train guard. He was freed in a prisoner exchange a short time later, but not before the Confederates held him up as evidence that the North was so desperate that it would enlist children in its fight. Clem was rewarded with advancement to the rank of Sergeant and assigned to the headquarters of the Army of the Cumberland.
Clem left the Army in 1864 and rejoined it in 1871 as a 2nd Lieutenant. He rose in rank to brigadier general becoming Assistant Quartermaster General of the United States Army in 1903. He retired from the Army in 1915 and died at age 85 in 1937. He is buried in Arlington National Cemetery.