| | |
| --- | --- |
| America Goes to War | The Zimmermann Telegram, 1917 |
Text of the telegram sent by German Foreign Minister Arthur Zimmermann to the German Ambassador to Mexico, January 19, 1917:
STRICTLY SECRET. DECODE YOURSELF.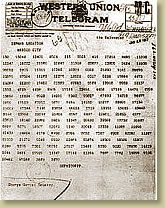 The Coded Telegram
WE INTEND TO BEGIN UNRESTRICTED U-BOAT WARFARE ON FEBRUARY FIRST. EFFORT WILL BE MADE NOTWITHSTANDING THIS TO KEEP THE UNITED STATES NEUTRAL.
IN THE EVENT THAT WE SHOULD NOT BE SUCCESSFUL IN THIS, WE PROPOSE ALLIANCE TO MEXICO UPON THE FOLLOWING BASIS: TO MAKE WAR TOGETHER; MAKE PEACE TOGETHER; GENEROUS FINANCIAL SUPPORT; AND AGREEMENT ON OUR PART THAT MEXICO SHALL RECONQUER THE FORMERLY LOST TERRITORY IN TEXAS, NEW MEXICO, ARIZONA.
ARRANGEMENT OF DETAILS TO BE LEFT TO YOUR HONOR. YOU SHOULD DISCLOSE THE FOREGOING TO THE PRESIDENT [OF MEXICO] IN STRICT SECRECY AS SOON AS OUTBREAK OF WAR WITH THE UNITED STATES IS CERTAIN AND ADD THE PROPOSAL [THAT HE SHALL) INVITE JAPAN TO IMMEDIATE SPONTANEOUS CONCURRENT EFFORT AND AT THE SAME TIME USE HIS GOOD OFFICES BETWEEN US AND JAPAN.
PLEASE CALL THE PRESIDENT'S ATTENTION TO THE FACT THAT THE RUTHLESS EMPLOYMENT OF OUR U-BOATS OFFERS THE PROSPECT OF FORCING ENGLAND IN A FEW MONTHS TO [MAKE] PEACE.
ACKNOWLEDGE RECEIPT.
ZIMMERMANN..
Source"Lansing, Robert, The War Memoirs of Robert Lansing (1935).